So the story goes like this about this little fly…
The finger mullet are moving into my home waters in a nice steady flow and so I've been playing with sparsely tied mullet patterns. This is a difficult task to say the least being that the mullet are so damned fat-headed and it can take alot of  materials to get the fat and wide profile. Short and Stumpy they are.
And one night in thinking over methods on how to get bulk yet tie sparsely, I put together this seaducer headed hollow fleye. Its another hybrid but of natural materials to keep it as light as possible yet maintain that bulky fat head.
A short time later I saw Matt's the salmon fly hanging off the swollen edge of a particle board shelf. "Yes!" I thought and feverishly began to reproduce that pattern which was given to me by Matt, who is the brother of my good 'ole buddy, Nate. We go way back and have gotten into fish trouble with our women many time! And, both Nate and Matt contribute to the Ohio Outdoors & Wildlife website which always has cool stuff about the outdoors. They are real critter getters!
Matt tied this fly during a video shoot with me of some "other" patterns with heavy metal music blasting in the background. He was muttering Dahlberg this, gawd-dang Dahlberg that and this was pretty much the only word I could understand. And that is certainly one of my favorite ways to tie flies.
He then fished this fly with me in their neck of the woods under heavy snow in a river with ice sheets floating down it. Personally I prefer ice in my tea! The fly was tied on an upturned eye salmon fly hook in about a size 1. And, as he already knows, I used it in Argentina for freshwater trout. They killed it.
Once I saw how violently the fish were attacking this fly, I cut it off my leader and put it away for safe keeping.
Now it took me a while to find gray magnum rabbit strips locally but finally found them at Swan Point Landing thanks to Dave Hayward. Hareline products can not be beat.
Sitting down at the desk and clearing off a patch to make room for another short stack of materials I found the Tiemco 611S and whipped it up into this. Then, I just had to tie it on the ever famed for its power but always hated for its one time use kind of a hook, the Tiemco 600sp.… I couldn't bare the thought of a tarpon scarfing down this fly and not getting a perfect hookset. when one does, one must be prepared!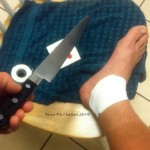 Hopefully the samurai wound on my foot heals quickly enough to avoid infection, cabin fever is setting in.I will certainly put it in front of some of these South Texas Coastal fish!
– Kenjo Fly