August is prime time for best chances at a big redfish in shallow water. I have some weekdays available. Simply give me a call asap!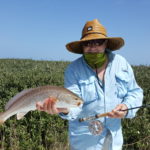 We have already worked one area that had a 20lber in there and today ran across some schools of top slot redfish.
Adam did well and nailed this 22.5inch redfish at a close range of 5ft.
Below is some short clips of the surprise Jack attack. Straightened 4 hooks, broke off a big monster Jack on 30lb leader and pulled the hooks on quite a few others. We chased them for 2hrs over 2 miles distance.
AND again!