"Look there! 12 O'clock, 200 yds!" What's that? Oh man! Its a coyote!" We watched in amazement as a coyote seemed to be swimming towards a short oyster reef, which was on the edge of the middle of nowhere… He must has swum quite a long distance to reach that reef. The squawking shorebirds of several varieties protested the coyote while coming ashore but it seemed unfazed by their annoying calls and cries intent on reaching drier land.  How cool it is to be on the flats and observe wildlife roaming free, unhindered, and most of the time… uninterrupted? Pretty damned cool if you ask me.
The last few days was great for fishing the flats and with persistence and a sharp eye there were plenty of fun shots at slot-sized redfish. A 36 inch redfish graced us with its presence on Tuesday and young angler Cole from Ft. Worth took quite a few heroic shots at that bull red but it showed no interest in the fly we had been using to sight fish the pocket water. On top of that we tracked along with that fish only 15 feet off the port side  for a few minutes and Cole didn't flinch and stayed cool the whole time!
As the week progressed the skies and winds improved and for the last couple days the small and scattered clouds eased over us, sending shadows over the flat but the clouds would pass by after only 30 seconds and the sunshine would illuminate the flat again well enough to see good numbers of fish over the course of the day. Matter of fact, my guest today landed his first keeper redfish of the day within 15 minutes of working the flat with me on the platform… On a popper too no less. Then the second fish came on a shrimp/crab hybrid fly and it too was also a nice slot fish. The third fish was big enough to be in the upper end of the slot but popped off when some tippets go tight and possibly brush against an oyster shell.
Here is a shot of a wild sea creature we encountered today. Who can guess the species?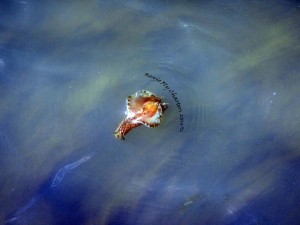 The fish are filing onto the flats when the tides allow, and each day it seems like more and more redfish are slipping up out of the deeper waters and even holding on the flat longer as the tides fall. The sea grasses are looking nice, plush and green now too. Quite possibly it is this weekend's full moon that is turning on the fish. It has certainly caused an interesting tide cycle this past week. Nonetheless, as I sit here and type this tall tail I ask if you would imagine a pair of tailing upper slot redfish in 8inches of water. And while at least the thought wont escape me, I am debating within myself whether or not I should hunt for tarpon tomorrow morning 4am to sunrise… Sounds crazy I know… But that is just how I like it.
I've got a few dates left in June for flats charters and a few dates towards the end of July. Weekdays are highly recommended. Call for details. 361-500-2552
Also here is a short clip I took a while back with notable Outdoor Writer, Phil Shook, of some cool dolphin laying down tricks in the wake of a tanker ship at Charlies Pasture.
-Keeping the hooks sharp, Capt Ken Jones