Old Man Winter threw us a fastball this year and it delivered several North Blows that have lasted 4-6 days long. I normally prefer a more moderate change in seasons but each year is different. This year our weather patterns have shifted to prevailing northerlies a little early and when there is a battle between frontal systems (warm vs. cold) the nice weather only gets to hang around one day maybe two. On each flip between systems, we are getting some very nice blue bird days with light winds allowing us to stalk some red in the shallows.
With the north winds prevailing the schools of redfish that were way up on the flats that I was seeing in the last month have moved into deeper holes near the edges of the flats. Up in the shallows we are still seeing lots of single redfish laid up or cruising for some shrimp, and it has been fun to watch the single fish cruising around and suddenly run into another fish making a pair.
This past weekend was fun with returning angler Chris, who is quickly becoming a sharp saltwater fly fisherman. Chris has done very well taking shot after shot at these reds and has been rewarded with some very nice fish. He is beginning to understand well the challenges of sight casting to redfish in crystal clear water. Learning how to look into the grass underwater and find that redfish that is hiding so well lying motionless hovering only half an inch over the top of the grass. Their colors shimmering in the light, each scale sends out hues of gold, copper, amber, and bronze to make it blend into their surroundings. These fish are definitely very colorful this time of year. When the winds have been low and the skies clear, sight casting opportunities exist in good numbers and following the lines on the flats will help you locate fish to which you can sight cast.
Move slow so as to not spook the fish in the distance and move even slower to give yourself more time to methodically scan a short radius around you in search of that glimmering tail passing by. For those times when the wind has kicked up a slight chop on the flat, try putting the sun and wind to your back and look through the backsides of the waves to get a clear view of what is lurking below the surface.
As we move into the winter fishing patterns, not all winter hotspots are holding fish yet. Alot of fish are staging between their summer/fall haunts slowly making their way to deep water flats and troughs where dragging the bottom with big ugly flies produces consistent fishing of quality sized reds. These redfish schools will surely grow larger in the coming weeks and in a month or two the giant black drum will also begin to appear offering multiple sight casting opportunities each day.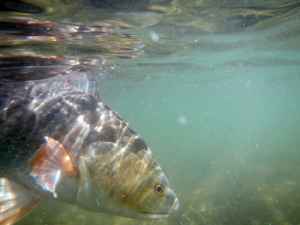 Keep the hooks sharp! Captain Ken Jones 361-500-2552