I am beginning to love the effects El Nino is having on our fishing! The abundance of fresh water from the heavens last year has made for a super abundance of food for the fishes! The fishing has been way above average lately not counting against what madness went down in February.
Considering the quality and quantity of fish that I am finding… take your pick! Do you want shots at good numbers of fish or a few good shots at quality fish of several species? And even despite inclement weather, some fabulous fishing is occurring for dedicated anglers.
Fortunately, the new Beavertail Skiff is the driest ride I have ever had on a flats skiff and even in rough conditions this boat performs very well.
By any measure this new boat goes everywhere the old boat could get. That's the most thrilling part! Or, well, maybe seeing more than a dozen trophy trout in one day is a little more thrilling but nailing a 28-inch below average trout really got the blood pumping. Our imaginations have soared for the week following and still continues to grow and call us back to the water.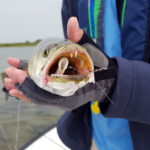 I have been running into a real mecca of giant trout and even on the days we couldn't sight cast we got them dialed in on topwater flies. Some glorious fish have been revealing themselves putting on the feed-bag, and even sometimes when the angler least expects it. Lessons are learned by all in situations like that… "Never take your eye off the fly!"
The redfish are also hungry and some 20+ fish schools of oversized redfish are begging to be caught. Chartreuse shrimp and mullet flies are my go to color and choice flies of all time regardless of light conditions. Then I go to blue crab flies (bigger is better if you ask me) and don't forget to have some plain white topwater flies ready to zing! The majority of the black drum have been a little scarce from my normal operating areas the last week but those that I did find were close to 10lbs and have even found at least 1 drum per trip between 25-40lbs. Ya Ya!
Here also is a little video of my good buddy Bob playing tug-o-war with a very respectable trout on a fine day last week while breaking-in the new skiff. Give me a call directly to book your next Texas Fly Fishing Adventure! Capt Kenjo 361-500-2552