If you have ever heard the expression "Get it while it's HOT", just apply that saying to the quality of fly fishing available in Montauk right now!
Some very nice keeper+ sized striped bass have moved in thick now and are feeding almost as if they were intoxicated! Nonetheless, they will be picky if you do not follow the basics of matching the hatch. Its not just about how it looks, but more importantly in how you move the fly. Most flies that resemble a 3-4″ spearing or 1-2″ bay anchovy are getting hit regularly, and then there are some flies that get absolutely chomped by everything!
The biggest battle that remains is how many times can a fly get chewed before the fish begin to refuse it? The Little Pink Lady (above) is one tough mother!  This fly was first tied sitting on the boat at the dock while preparing for a day of albie chasin! Taking multiple species in one day and more than 10 albies have been taken on a single fly it proves just how durable it really is! The fish just cannot wear out this fly and I have only witnessed one refusal! Of course, it is a very good idea to inspect and/or simply retie the tippet after a few fish are landed.
The false albacore bite is staying strong and steady, 15lb fluorocarbon is a must even in sloppy conditions and they have begun to feed in smaller packs but the ratio of strikes to landings remain. The Alchovie Fly (shown at left) is one that even the most stubborn of little tunny wont refuse.
Next, it holds true that if you work the areas along the outer edges of the fleet slowly you are certain to find schools of fish that are not already surrounded by boats and on most occasions these situation are where you will experience the best blitzes Montauk has to offer! You'll be sure to look up from your spool after watching the backing ripped off faster than ever and notice that there is not another boat in sight! Just love it when the fish strikes, turns, and heads for open ocean! If you happen to hook up right away and the fleet finds your school of fish to more interesting than the one previously, let'em have it and just quietly move onto the next pod of fish that is out in the open, off to the side, or  1-2 miles upwind from the fleet…
Capt Kenjo 361-500-2552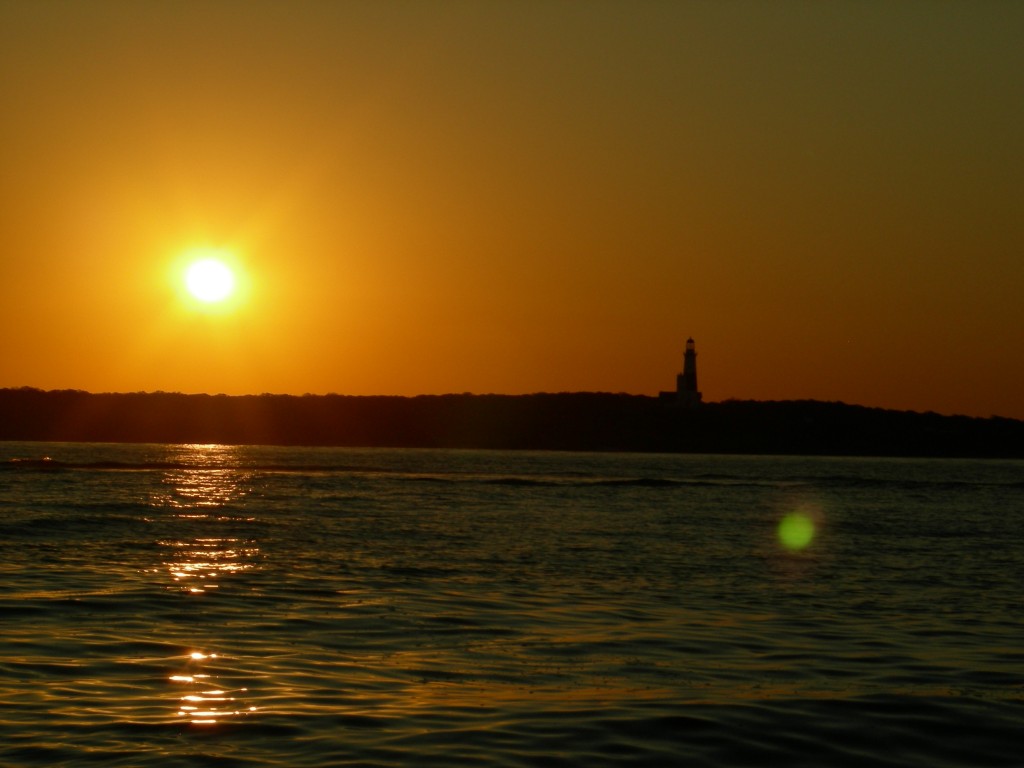 As the sun sets, Montauk Lighthouse is getting ready to assume duties for the night…